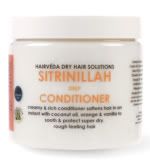 When buying hair products, we are all usually bombarded with bright, colorful bottles with all types of labels with miraculous claims. Sitrinilla is different, it's a no frills, no nonsense, tried and true deep conditioner. I have been using this deep conditioner a little over a month, and when this conditioner says;
Ultra Moisturizing Deep Conditioner
, It really means it! I came to this conclusion because I have applied it on both wet and dry hair, as instructed on the container, and you get the exact same result; soft and moisturized curls. Most of the deep conditioners I have tried
need
heat to ensure that the conditioner has fully penetrated my hair. I have used Sitrinaillah without heat and still achieved great results. It also has a light, citrus scent too it, identical to a creamsicle. It's currently available online. It's reasonably priced according to it's size, a 16 oz. jar will run you $17.50 Once I run out of this conditioner, I will be repurchasing.
If you are in the market for a new deep conditioner, definitely give this one a try!
The ingredients are the following:
Ingredients: Water, Coconut oil, Castor Oil, Cetyl Alcohol, Glycerin, SterylAlcohol, Stearakloniun Chloride, Dimethyl Stearamine, Orange oil, Orange Extract, Vanilla Extract, Lactic Acid, Germall Plus, Fragrance.