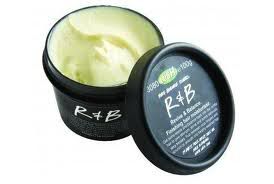 Review: Lush R&B Revive & Balance Hair Moisturizer
Lush R&B hair moisturizer is a leave-in conditioner/moisturizer geared toward those of Black decent and/or those with curly hair.
Ingredients:
Oatmilk (Avena sativa),
Glycerine,
Organic Avocado Butter (Persea gratissima),
Fair Trade Olive Oil (Olea europaea),
Glycerl Stearate & Peg - 100 Stearate,
Perfume,
Cetearyl Alcohol,
Extra Virgin Coconut Oil (Cocos nucifera),
Cold Pressed Jojoba Oil (Simmondsia chinensis),
Bay Oil (Pimenta racemosa),
Orange Flower Absolute (Citrus Dulcis),
Jasmine Absolute (Jasminum grandiflorum,
Cupuacu Butter (Theobroma Grandiflorum),
Phenoxyethanol,
Benzyl Alcohol,
Candelilla Wax (Euphorbia cerifera),
*Benzyl Salicylate,
*Eugenol,
*Geraniol,
*Isoeugenol,
*Benzyl Benzoate,
*Farnesol,
*Limonene,
*Linalool
R&B hair Moisturizer has a thick, creamy, butter like consistency and a somewhat heavy floral scent, which is great if that appeals to you. This scent could also be considered overwhelming if you are sensitive to certain smells. That being said, it's a great moisturizer it can be used on wet or dry hair. The first time I used R&B, was in the winter, Initially I wasn't pleased due to the fact that my hair was somewhat dry, and I wasn't pleased with the overall "feel" of my curls after applying the product. I tried it once again in July, and surprisingly it had a completely different result! Upon using R&B in July, I did notice that my hair was noticeably softer, smoother, and completely moisturized. I would recommend this product to those who live in a consistently warmer climate. For those who tend to live in a colder climate, I would suggest that you add this to your summer beauty routine only.
Note:
If you are unsure as to whether your hair likes or dislikes glycerin, ask for a sample of the product first. This product tends to be on the pricey side considering it's $20.00 for only 3.5 oz!
Pros: Nice smell, moisturizing, nice consistency, good ingredients.
Cons: Price/size ratio, different results depending on the season.
Will I repurchase ? : Yes, but only for summer.
Overall Grade: B